What is it? Caudalie's Moisturising Mask is designed to combat parched, stretched skin and alleviate tightness, discomfort and signs of irritation. The skin's barrier is left nourished, hydrated and protected against future dehydration. The formula is enriched with antioxidant-rich grape extracts – grape-seed oil to nourish, hyaluronic acid to attract and retain moisture, and vinolevure to soothe and strengthen (vinolevure is extracted from wine yeast used during vinification, it helps retain moisture and reinforces the skin's immune defences). The antioxidant rich formula protects against damage caused by free radicals; I've talked about the dangers of free radicals in other blogs, and we know they cause many problems for the skin including photoaging and inflammation.
Who is it for? Anyone wanting more hydration and to get rid of that feeling of tightness in the skin. The mask is suitable for even the most sensitive of skins.
How do you use it? Directions are to apply twice a week to the face and eye contour area, neck and decolletage, leave for 15 minutes and then massage in the excess, follow with serum and/or moisturiser. If your skin is very sensitive then you can rinse the mask off after 15 minutes. Alternatively you can leave the mask on all night for a deeply nourishing treatment.
What's the damage? £22.00 for 75ml
Score: 💋💋💋💋💋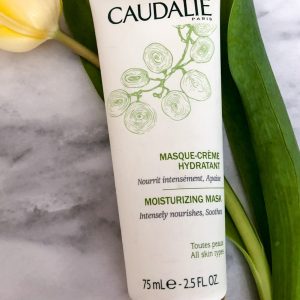 After falling out with facemasks for a while because I often felt that they didn't offer anything more than my normal products were giving me, I've got a renewed interest as there are some really fabulous ones available at the moment. I haven't used a Caudalie product that I didn't like, so when I wanted to trial a moisturising mask I went straight to their range. I've been using the mask once a week and leaving it on overnight, it's quite a thick consistency so make sure you give it a while to settle in before you go to bed.
I like to have a bit of a beauty treat on a Sunday evening as it's generally a more relaxed day, so I tend to do some microneedling followed by a retinol serum and The Ordinary buffet and hyaluronic acid. After around 10 minutes I apply the Caudalie moisturising mask and then settle down to read or watch something on TV (currently Season 5 of The Vikings on Amazon).  I wake up on a Monday ready to face the week with my skin feeling really well moisturised and looking plumper and healthier.